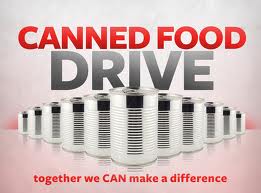 The CAN THE PRINICIPAL food fundraiser is on all week. Great job getting those food items in! We think Mr. Awada is actually going to be canned this year! Each child is asked to donate 10 cans for the needy. The class that collects the most cans will win a pizza party. Also, you can send new hats and mittens for our tree. These will be donated to those less fortunate than we are.
1. Join us this Monday, Dec 6th at 9am in the gym for our next Bucketfiller Assembly. If you know your child is a student of the month, come and watch as he/she is honored.
2. NO Ecology Club on Tuesday morning at 8am. Instead we will have Chess and Ignite meet in the media center.
3. LATE START ON WEDNESDAY, DECEMBER 8TH. School begins at 9:35am. No clubs in the morning.
4. School store opens after school on Wednesdays.
5. On Thursday, Dec. 9th at 8:45am there will be a 4th grade curriculum parent meeting in the cafeteria. Ms. Bazzi and Ms. Earle will present their expectations for your child in their classroom. This is a very important parent meeting for all 4th grade families.
6. Friday, Dec. 10th, Ignite students to meet at 8am in the media center.
7. Friday, Dec. 10th, Pajama Day. Each child is to pay $2 to wear their pajamas to school. All proceeds will go to charity. MAKE SURE YOUR CHILD PARTICIPATES AND SUPPORTS THIS GREAT CAUSE. Ms. Jacqui Rivait will visit and read to the students. The class that raises the most money for Pajama Day will win a pizza party.