HELLO LADIES!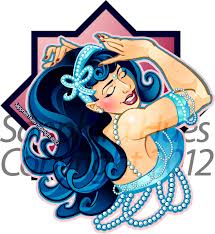 The PTA will be having a wonderful and fun event on Friday May 17th, 2013 at Oakman Elementary in celebration of Mother's Day. The doors will open at 5pm and dinner will be served at 5:20. Afterward a DJ will play your favorite songs. Come do the Debka with us!!
All Oakman staff, moms, sisters and daughters are invited to have dinner together and dance.
NO MEN WILL BE ADMITTED. Sons under 4 yrs. old may enter with their mothers only.
In order to have an accurate count for dinner please buy your tickets in advance from the office or from the PTA. Tickets will not be sold at the door so make sure you buy your ticket soon. $15 for adults and $10 for girls.
You can call Ms. Rose Harb at 478 8491 or Ms. Amged at 463 3623 for more information
مرحباً ايها السيدات،
تنظم جمعية الاهل والمدرسين في مدرسة اوكمن حدثاً رائعاً وممتعاً يوم الجمعة الواقع في 17 ايار/مايو احتفالاً بعيد الام.  ستفتح الابواب الساعة الخامسة مساءً وسيتم تقديم العشاء في الساعة 5:20 . بعد ذلك سوف تسمعون الاغاني المفضلة لديكم وسوف ندبك سوياً.
كل المعلمات والامهات والبنات والاخوات مدعوات لتناول وجبة العشاء معاً.
ممنوع حضور الرجال. يكمن حضور الصبيان الذين هم تحت الاربع سنوات مع امهاتهم فقط.
الرجاء شراء التذاكر باكراً لنتأكد من عدد الحضور.  يمكنكم شراء التذاكر من مكتب المدرسة او من جمعية الاهل   الـ ( PTA ). لن يتم بيع التذاكر في الباب نهار الحفل لذلك تأكد من  شراء التذاكر الخاصة بك قريبا: 15 دولار للسيدات و 10 دولارات للبنات.
لمزيد من العلومات الرجاء الاتصال بالسيدة روز حرب على هذا الرقم 8491 478 او السيدة امجد على هذا الرقم 3623 463 .

This is going to be a great party!!!!