SHOPAROO UPDATE!
https://shoparoo.com/howitworks/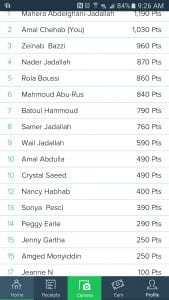 How are we doing with the Shoparoo competition?  Don't have the app? Just download it on your phone and join the fun!
Last week Mrs. Jadallah, then Mrs. Abdulla were in the lead. By the evening Mrs. Chehab was soaring by!
This Monday the person in the lead is Mahera Jadallah again.  Thank you to all the teachers and parents participating.
Winner for the month of September will be determined on Friday, September 30th. So shop, shop, shop and earn points OR just hand your receipts to the office to Ms. Amged to distribute and earn points for.
Good luck to all!
Monday:  PTA membership continues. Please send $10 per student for you to become a PTA member. If you have more than one child in our school the family membership is $20.
Tuesday: pizza sale pm
Wednesday: School Store pm
Thursday: SMOKE ON THE GRILL TICKETS are for sale in the office with Ms. Amged. Split the cost with another parent and support our PTA
Friday: VOLUNTEERS NEEDED for the popcorn sale.  Congratulations to Mrs. Gartha's 5th grade  for winning the bake sale competition last Friday. Each student in her class won a free bag of popcorn.